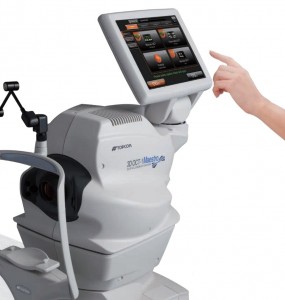 We're very proud to announce that we now possess in-house optical coherence tomography (OCT). OCT is a versatile and comprehensive screening solution providing early detection and objective follow up of the major back of the eye (retinal) diseases in the primary care setting:
Diabetes
Glaucoma
Age-Related Macular Degeneration (ARMD)
All other retinal diseases
We do charge extra for an eye scan as it isn't covered by the standard NHS eye test. This test is a must if you have a family history of eye disease, are currently being monitored or just care for your eyes. It's quick, painless and potentialy sight-saving.
An important function of this instrument is that we can quickly determine if DRY ARMD turns to WET ARMD. The latter can be treated with modern drugs such as Lucentis. N.I.C.E. (The National Institute for Clinical Excellence) now stipulate that this drug is available under the NHS.
A detailed report produced by our Topcon OCT scanner can be viewed here (PDF format).